Functional Chiropractic Care of New England
Dr. Denise Pickowicz, B.S., D.C.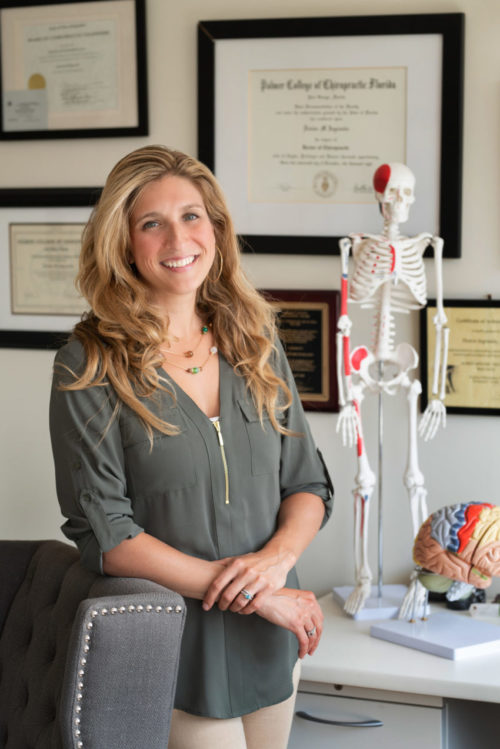 Get to Know Your Local Functional Chiropractic Neurologist:
Who is Dr. Denise Pickowicz and how was Functional Chiropractic Care of New England, LLC Established?
Denise M. Pickowicz, B.S., D.C., founder and owner of Functional Chiropractic Care of New England, LLC, graduated with research honors from Palmer College of Chiropractic Florida in 2008 at which time, she was inducted into the Chi Rho Theta Honor Society for work as a co-author in publishing an article on Orthopedic and Neurological Exam in the Journal of Chiropractic Medicine. Upon graduation, through nomination by her peers, she also received the Virgil V. Strang Philosophy Award for holding true to chiropractic philosophy through words and example. Dr. Denise is board certified in Chiropractic as well as Physiotherapy, has completed her post-doctorate diplomate program in Clinical Neurosciences/Functional Neurology through the world renowned Carrick Institute in March 2019 and earned her Bachelor of Science degree in Health Sciences from Florida Gulf Coast University in Fort Myers, FL in 2003. Dedicated to continuing her education and supporting organizations she believes in; Dr. Denise is a member of the International Association of Functional Neurology and Rehab as well as the International Chiropractic Pediatric Association. What this means to you is that you know you have a board-certified physician in Chiropractic with additional studies in Functional Neurology and pediatrics, who is constantly seeking the latest in assessment and treatment to serve her patients at the highest levels possible.
Originally from New Hampshire, Dr. Denise moved from Florida back to her home state after the birth of her 1st son. After her 2nd son was born, she left the position she held as an associate Chiropractor to open her own home practice with the intention of serving families within her local community, as well as being able to be home more to raise her own family. After 6.5 years serving the New Boston area (under her previous business name of Ingrando Family Chiropractic, LLC) Dr. Denise re-married, decided to expand and rebrand her practice and moved it to Concord, NH in 2017. Most recently she has been additionally working out of Project Walk-Boston helping patients who are working on regaining their abilities after spinal cord, brain, and various other neurological injuries. Dr. Denise enjoys working with patients of all ages and all conditions whether they are musculoskeletal or neurological in nature and especially enjoys working with pregnant woman and children. Prior to her work in Functional Neurology, Dr. Denise spent several years training under well-known Pediatric Chiropractor, Dr. Claudia Anrig, in her Generations Program and completed several post doctorate seminars and courses in Chiropractic Pediatrics. She has had success giving better mobility, improved function, decrease of pain & inflammation, improved stability and gait to individuals with back/neck/shoulder pain, headaches, scoliosis, cerebral palsy, post-concussion syndromes, muscle spasms, movement disorders, ear/sinus infections, colic, and dizziness to name a few. She has also had success with providing a balanced pelvis in pregnant woman utilizing the Webster Technique and has successfully helped mother's presenting with breech babies to get their babies to turn into the correct position for birth. She utilizes a myriad of adjusting techniques as well as various technology in her practice (such as the Interactive Metronome, Shedlight laser, & CAPS Posturography system to name a few) to effectively assess and treat patients. If you know a friend or family member that could benefit from the care Dr. Denise provides, please be sure to refer them in!
Dr. Denise first witnessed the incredible power of chiropractic care as a child when she was treated for migraines. As a "side effect" of chiropractic, her chronic sinus infections also disappeared. Soon after, she saw how chiropractic care benefited several family members. At this point she made it her life mission to become a chiropractor and facilitate healing in others; to change their lives as hers was changed.
With over two decades of healthcare experience, from working in various capacities in chiropractic, urology, and family practice medical offices to hospital emergency room care as an EMT and phlebotomist, then back to her dream profession of Functional Chiropractic once she completed school, Dr. Denise is a leader as well as a compassionate and professional healthcare provider. With her unique, personable, and loving approach to patient care, she strives to provide a comfortable and positive atmosphere for patients to heal and obtain optimal health. She enjoys treating and educating patients of all ages on the incredible advantages of functional chiropractic care and the amazing power of the brain and nervous system in controlling and influencing health.
To schedule an appointment with Dr. Denise Pickowicz please call her Concord office at 603-227-6138, her cell at (386) 852-5457, or schedule online at www.fccne.com, to book an appt at either our Concord, NH or Stratham, NH (inside of Project Walk-Boston) location.